Our Artists
The appearance of your new stained glass windows, as well as how well your painted replacement windows match, will depend largely upon the skill and style of the artist.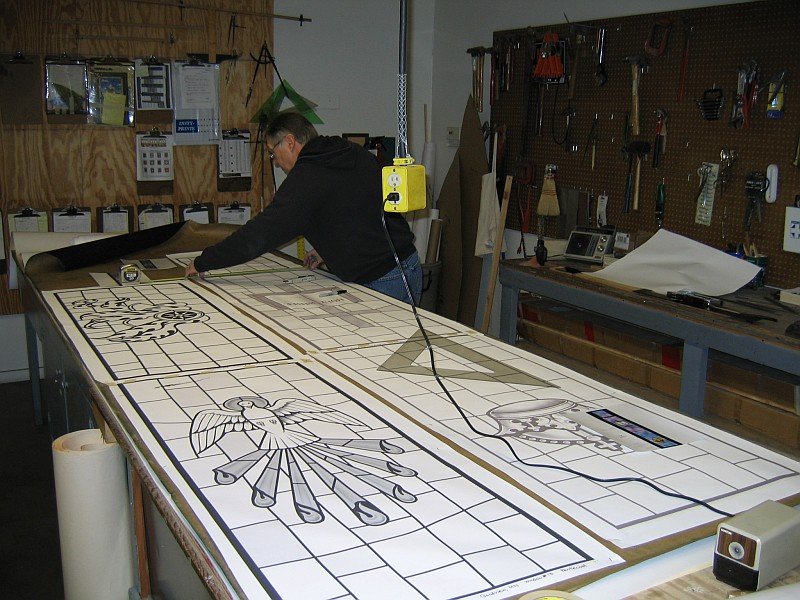 All new stained glass windows, whether they are window symbols or figures, begin with the artist's scaled water colored sketch. Since the sketch is water colored, it only approximates the actual stained glass color.
Once you approve the sketch, production can begin. The first step is to enlarge the scaled sketch to the actual size of your window. This copy is called the cartoon. The cartoon is used to make a pattern copy for cutting the pieces of glass and a layout copy for assembling the pieces of glass into a stained glass panel.
Reinarts Stained Glass Studios will take the extra effort to insure that you are pleased with your stained glass treasure.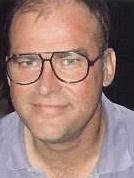 Our primary artist, Steve Miller, is able to design and create symbol and figure sketches in the traditional style as well as the modern style. In addition to creating the sketch and cartoon, he will also paint the symbols and figures on the stained glass. Once the paint is cured in the kiln, it becomes a permanent part of the glass.
The windows Steve designed for St. Rose of Lima Church in Denison, IA, were featured in the 2012 Summer issue of the Stained Glass Quarterly of the Stained Glass Association. Click on this paragraph to view the windows and article.
More of Steve's work can be seen in the menu item "Our Work|Custom Windows".
In the last century, Reinarts Stained Glass was fortunate to work with three renowned artists of that era. They are no longer with us, but we have many of their original sketches in our inventory. These sketches could be adapted to your windows.
Richard Caemmerer was Professor of Art at Valparaiso University from 1958-1980 spending the last 8 years as Chair of the Department of Art. In 1980 he founded and became Director Emeritus of Grunewald Guild in Plain, Washington. Caemmerer had commissions in stained glass, sculpture, fresco, sgraffito and tapestry from approximately 600 churches throughout the United States, Canada, Central America, Germany, Africa and Yugoslavia.
Robert Leader came to Notre Dame University in 1953. He eventually became Professor Emeritus of art, art history and design. He designed, and Reinarts Stained Glass manufactured and installed, the stained glass windows in the chapel of Notre Dame, Sorrin Hall.
James Crombie was a stained glass designer and artist from Bristol England. He received his original training from Sunderland in the early 1930s. After WWII he worked for Abbey Studio in Edinburgh until 1963. He designed the stained glass windows for many of Reinarts' ecclesiastical customers.
The following slides show a small sample of these men's works. On the large slide, click on the ">" botton to navigate forward and the "<" button to navigate backwards. Click on the thumbnail image to place it in the large display.
Strict Standards
: Only variables should be assigned by reference in
/home/u755557086/domains/reinarts.com/public_html/modules/mod_responsivegallery/mod_responsivegallery.php
on line
22